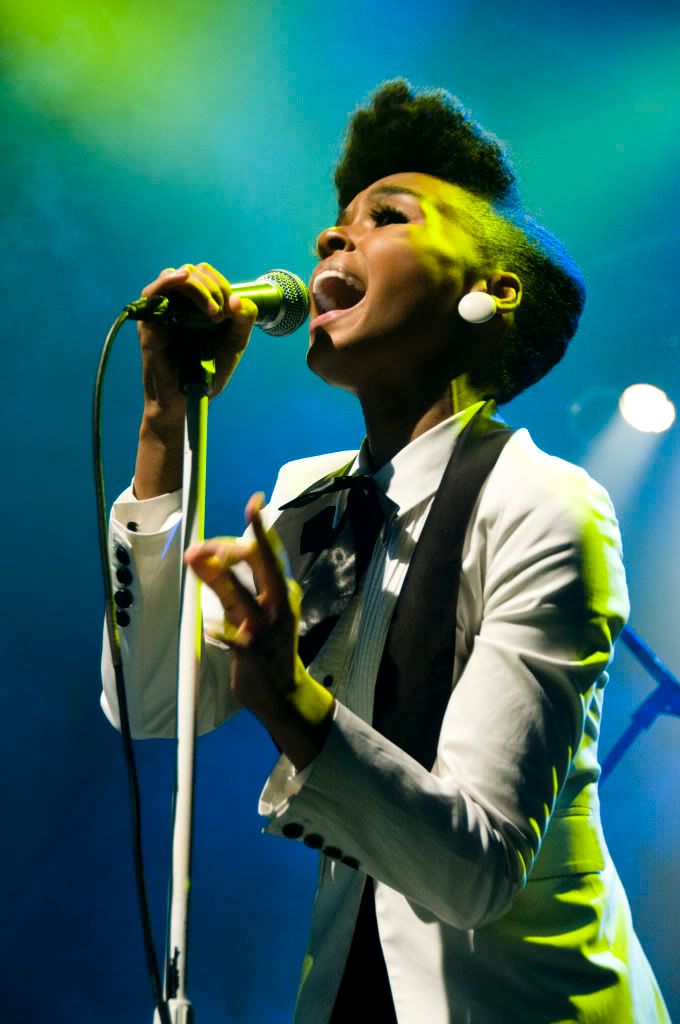 In this theBVX exclusive,
Janelle Monae
talks about her signature tuxedo style and why going pantless à la Rihanna and Beyonce isn't an option.
Ever since she hit the scene as a member of
OutKast's
posse in 2006, singer
Janelle Monae
has stood out not only for her unique voice and James Brown-like dancing skills, but her afro-pompadour hairstyle and masculine tuxedo-focused style.
TheBVX
caught up with the 24-year old Kansas native, whose album
The ArchAndroid
is out May 18th, to discuss the style that has landed her in
Vogue
on multiple occasions.
You grew up in Kansas, which isn't exactly the fashion capital of the U.S. Did you stick out like a sore thumb?
Oh yeah! I was always told that. I didn't try to and it wasn't like I wanted to be different. But there were times when I thought people were trying to get me to conform and it made me define myself more. I think that's always been in me. When I see so much of the same thing, it bothers me. Growing up, that did push me to define my own look.
Your style today is focused solely on tuxedos and oxford flats — even though you're 5-feet-tall. Do you have style icons you look to?
I love Katharine Hepburn. She's definitely one of my inspirations. I also love designer Thom Browne. His little cropped tuxedos, I love those. I actually wore one in GQ a couple of years back. I just love the cut. And I love Alfred Hitchcock, I loved how he dressed and his attitude. It's more about the person, not everyone can get away with wearing tuxedos. It's a lifestyle for me. I like people I can look to like Karl Lagerfeld. He wears the same thing all the time.
You've been wearing the pompadour hairstyle for a while now. But at the moment, it's actually becoming a huge trend, especially on male runway models and people like Mark Ronson. What do you think of that?
Well, it's called the "Monae" and it's a lifestyle thing. I'm not just doing it because it's a trend. It's like my superhero uniform. When I'm working and performing and even in my off time, this is how I like to wear my hair. It's just transcendent. You can wear it anytime and it works. It's like a retro-futuristic feel. I've seen people trying to wear it, and that's fine. I just know it's a trend for some people. I like Mark Ronson, he's a supporter of mine. People mean well and I didn't invent the pompadour, but only one person can wear this particular hairstyle and that's Janelle Monae.
When most young female performers start their careers, they put their sex appeal front and center. You don't do that. Your style is more masculine and you don't even wear heels!
Well, I love heels but they just have to be the right heels. They can't be heels that everybody is wearing. They have to really have to make me want to hurt because they are so cute. But I love saddle oxfords because they have a clean, classic, transcendent look. I want to look at my photos and I don't want to know that that was the Nineties. I want to keep it very classic. It can be [the year] 2719 or 1950 and it works. And I don't really believe in "masculine wear" and all of that. Because just knowing fashion history, there was a time when men wore tunics and women were wearing the trousers. For me, I'm just attracted to this cut.
So we shouldn't expect you to go the pantless route a la Beyonce, Lady Gaga and Rihanna and strip down anytime soon?
I'm naked at home. I paint naked and I love my body and appreciate it. But at the same time, I think my music is most important. My body is really nice and I would hate for it to upstage my art. Especially because I think my art can motivate change more than my body can. As a woman, [stripping down] is the easy way. I love all the artists you just mentioned. But for me, I like to keep my focus on my music, my art, my voice. And I don't want to be distracting people with how beautiful my body is. It's not about that right now.